Staffordshire Bull Terrier Neutering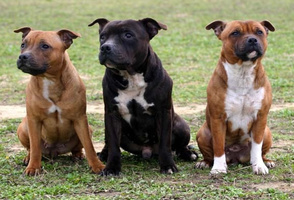 Please help stop the destruction of healthy animals; our shelters are full to bursting point with unwanted Staffordshire Bull Terrier dogs.  We are running a campaign to assist financially with the neutering of these dogs.
We are now offering these vouchers for £50 each for use at specified vets only.
These vets are: Kew Vets, Vets4Pets (Harlow), Vets & Pets, Bishop's Stortford Veterinary Hospital and Mercer & Hughes.
To qualify for assisted neutering you must be in receipt of a means tested benefit or a Senior Citizen in receipt of a State Pension.
 Proof of Benefit must be shown when applying for a voucher.
The client can call into our clinic during opening hours on a Tuesday or Thursday afternoon to pay for and collect their voucher, they may choose which vet they use from the list below and will pay us the price of the voucher.
---
Vets4Pets, Harlow – 01279 770104
*** You may be offered a Pre-op blood test prior to neutering ***
This will be cheaper if taken at our clinic
Client pays;     £50.00 for males or females
---
Bishops Stortford Veterinary Hospital – 01279 654108
Rye Street, Bishops Stortford
Client pays;     £50.00 for males or females
---
Vets and Pets – 01992 478657
Unit 11B, Nazeing Glass Ind. Estate, Nazeing New Road, Broxbourne
To use Vets & Pets your dog must be weighed first at this clinic
Client pays;     £50.00 for males or females
---
J A C Kews – 01279 422066
11 Wych Elm, The High, Harlow
Client pays;     £50.00 for males or females
---
Mercer & Hughes
Stansted 01279 813780
Great Dunmow 01371 872836
Saffron Walden 01799 522082
Client pays;     £50.00 for males or females