Homeward bound! RSPCA reunites dog with owners after NINE years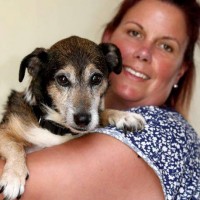 A dog from Braintree, Essex was reunited with his family last Friday (26 June) – nine years after going missing – after being handed into an RSPCA branch 30 miles away
Thanks to the RSPCA Stort Valley branch staff, 13 year-old Jack Russell terrier Foster, is now back in his own bed after he was stolen near to his home in White Notley, Foster's delighted owner Kelly Twin said: "It's just amazing to have him home. We had given up hope and can't quite believe he's back. "But for him, it's like he never went away, he's settled back in perfectly."
Staff at RSPCA Stort Valley branch in Harlow took little Foster in their care on Friday 17 June after he was brought in by neighbours of a lady who had sadly recently died. It is thought that the lady had owned Foster for several years, not knowing that he had been stolen during a break in to a family home several years previously.
The neighbours who took Foster to the RSPCA Stort Valley branch told staff that he was microchipped, and then to limit stress, Foster was taken into a temporary foster home straight away.
RSPCA Stort Valley branch staff member Marion Wellsman said: "All we knew was that Foster had come in after his owner had passed away, we didn't have any reason to think there was any more to it. He was due to come back into the branch for a health check so it wasn't until a week later that we scanned his microchip to have the details changed, and discovered that he was actually chipped to another address, and had been reported as stolen!" Marion added: "Kelly and her family were overwhelmed when I called them to tell them we had Foster in our care, it was a lovely call to make. Foster is a dear old chap and we are delighted he has made his way back to his owners."
Foster has settled back into family life with no trouble whatsoever, and has even made a new best friend. Kelly said: "We have another dog Marmite who we got a a year after Foster was stolen. The two are the best of friends already, it's lovely to see. "Foster was also really pleased to see my 10 year old daughter, Daisy (pictured above with Foster and Marmite.) She was almost two when he went missing and as soon as he saw her her was sniffing around her and was so excited. I really can't believe it all, it's a dream come true."
Since April 6th this year, it is now a legal requirement for dogs to be microchipped.
Kelly added: "Foster's story really proves just why it is so important for dogs to be microchipped – in our case, that little tiny chip reunited us with our little dog, something we thought would never happen."