Charlie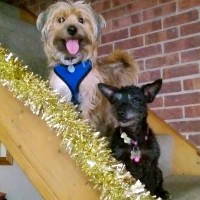 Just thought I'd drop you a line to say hello. Charlie is doing brilliantly, he has been to training classes so is a good boy.  Here he is with his little friend.
We have just got back from France in our motorhome; we got him a Pet Passport. He loved running on the beach, he even went in the sea for a paddle! He looked like he was smiling as he was running and shouting whoo-hoo
He is adorable, we love him to bits. He is a very happy little chap; we can't imagine life without him.