Our Clinic
The Clinic and Advice Centre is situated at 23 The Stow, Harlow, Essex CM20 3AN
The Stort Valley Branch is run totally by volunteers and we are a separately registered charity & branch of the RSPCA, primarily responsible for raising our own funds locally.  As a branch we fundraise by various events and collections, which enable us to provide a clinic staffed by a qualified Veterinary Surgeon for people on a means tested benefit. We also have an advice centre that you can telephone or call in to obtain advice on the care of animals, shelters and rescue centres, etc.
Our branch area extends from Saffron Walden Essex to Broxbourne, Hertfordshire, including Bishop's Stortford, Harlow and the villages surrounding this corridor.
---
---
New Opening Times
Monday 10.30am  – 3.30pm
Tuesday 10.30am – 3.30pm
Wednesday 10.00am – 3.30pm
Thursday 10.00am  – 3.30pm
Friday CLOSED
---
New clients
We are now asking new clients, where possible, to come into the clinic and register before making an appointment to see the vet.
---
Qualifying benefits
The clinic is for people in receipt of a means tested benefit; this includes Job Seekers Allowance, Employment Support Allowance, Disability Living Allowance, Personal Independence Payment, Universal Credit and Working Tax Credit.  Senior citizens in receipt of a State Pension are also eligible to use our services.
---
Who we will see
We recognise that some of our neighbouring branches don't have RSPCA clinics, so we are prepared to see clients from outside our branch area (in our neighbouring branch areas).  Hopefully this will help many more animals and their owners from the surrounding areas.
We do not have operating or X-ray facilities, if these are required then a referral to another RSPCA clinic or a private vet will be given.
If the client is from outside our branch area and is needing financial assistance towards a procedure at a private vet, then Stort Valley will have to direct them back to their own branch administration for this.
You can check as to whether you are inside our branch area on our postcode List & maps.
---
Consultation Charges
There is a consultation charge payable at each visit to see the vet.  From 1st August 2020 these charges will increase to:
| | 1st Consult | Return Visit within one month | Annual Health Check |
| --- | --- | --- | --- |
| Dogs | £20 | £17 | £20 |
| Cats | £20 | £17 | £20 |
| Rabbits | £20 | £17 | |
| Small Furries | £15 | £12 | |
| Exotics | £20 | £17 | |
| Nails Cut | £20 | | |
PLEASE NOTE:
WE ARE UNABLE TO SELL FLEA AND WORM TREATMENTS

UNLESS
THE VET IS IN ATTENDANCE 
YOUR PET WILL ALSO NEED TO HAVE AN ANNUAL HEALTH CHECK
You may phone us to order your requirements and collect when the Vet is in attendance.
All drugs are charged at cost  –   We treat all wildlife free of charge
We are now able to accept Debit/Credit Card Payments
---
Neutering Vouchers
We offer subsidised neutering of Cats, Rabbits and Staffordshire Bull Terrier dogs by way of vouchers to the following qualifying groups of people.
To qualify for assisted neutering you must be in receipt of at least one means tested benefit, this now also includes Working Family Tax Credit,  or a senior citizen in receipt of state pension.
Vouchers can be purchased during Clinic/Advice Centre opening hours on Tuesday or Thursday afternoon.
Proof of Benefit MUST be shown when applying for a voucher.
Cat Neutering
Cats £25 each for male or £35 each for female
The cat neutering vouchers can be used at the followings vets:
Kew Vets, Vets4Pets (Harlow), Mercer & Hughes, Walton Lodge and Bishop's Stortford Veterinary College
Staffordshire Bull Terrier Neutering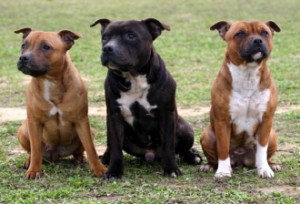 To register a Staffordshire Bull Terrier dog with us you must first agree to have it neutered. Please help stop the destruction of healthy animals; our shelters are full to bursting point with unwanted Bull breed dogs.
We are running a campaign to assist financially with the neutering of these dogs.
Staffordshire Bull Terriers £70 each for male or £90 each female.
Rabbit Neutering
Help to reduce the numbers of unwanted or unexpected litters and the numbers of rabbits in shelters
We offer subsidised neutering vouchers to people on a means tested benefit
Rabbits £35 each for male or female
The vouchers can be used at the following vets: J A C Kew & Vets4Pets, Harlow
---
Microchipping
Dog owners are required by law to have their pets microchipped.
We offer microchipping of cats and dogs to the general public (individuals do not need to be in receipt of benefits) at £10 per animal.
Microchipping involves inserting a microchip under the skin of your pet and is a reliable method of identification so long as contact details are kept up-to-date.
This is not an alternative to a dog collar:
Every dog in a public place is required to wear a collar with the name and address of the owner attached to it.
The owner or any person in charge of it, is guilty of an offence if it is not wearing a collar and tag and the dog will be treated as a stray if found.
This service is generally available when the clinic is open.
Staff are able to scan stray animals which are brought to the clinic.
---
Vaccinations
We are now offering a cat/dog vaccination service to clients of our Clinic.  To be able to use this service, you must meet the eligibility criteria for clients of our Branch.
For more information regarding vaccinating your pets, please refer to RSPCA Vaccinating Your Pet advice.
CAT  VACCINATION
FULL COURSE, including Leukemia  (includes general healthcheck) – £46.00

BOOSTER, including Leukemia  – £25.00
DOG VACCINATION
FULL COURSE, excluding kennel cough (includes general healthcheck)  – £46.00

BOOSTER – £25.00
KENNEL COUGH – £10.00, when vaccination is given with the FULL COURSE or BOOSTER vaccinations